You can count on Avalanche Waste Management to provide exceptional service and value.
Avalanche Waste Management provides Calgary and surrounding areas with bin rentals.
We specialize in bin rentals and waste management for commercial companies that require permanent waste bin solutions.
Capacity to handle the waste
This service is ideal for companies that have outgrown the capacity of traditional front-loading bins and require additional capacity to handle the waste.
Your business can have a permanent bin on location, and as soon as it fills, Avalanche Waste Management services the bin and returns it empty.
This service is popular amongst custom home builders, roofing contractors, home renovators, flooring contractors, drywall contractors, and any service or commercial business with a high turnover of dry waste.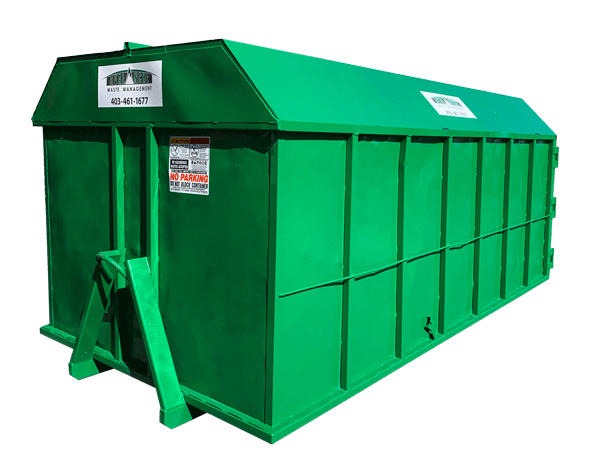 best-in-class customer service
We strive to provide best-in-class customer service and use our years of experience to make waste management an easy part of operating your business.
Our goal is to help keep your work sites, lots, or facilities clean and organized with dependable pickup and disposal.
You can count on Avalanche Waste Management to provide exceptional service and value. We will work with you to find a solution that matches your needs by determining the right bin size and schedule for your budget. The result is waste management you can rely on, and a solid contribution to the overall success of the project and our customer's bottom line. We strive to build strong working relationships with our customers through trust and communication to ensure we can work together on multiple projects over the years.
Our pricing is transparent and simple from the start
No hidden fees or environmental fees, no fuel surcharges, and no cost recovery charges.
When we tell you a price, that is the price you pay. From start to finish, Avalanche Waste Management works with you to ensure that your needs are being met within your schedule and budget. We are also flexible and fast on our feet. Need more space for waste or additional pickups? We have the capacity to deliver.
Don't hesitate to get in touch with us! We will provide you with the same quality service and customer experience that Calgarians have come to expect from Avalanche Waste Management. Email, call or fill out an online request form today.
Get in contact with us today and get the service you need. Please fill in the required fields.